When Can I Use a Menstrual Cup?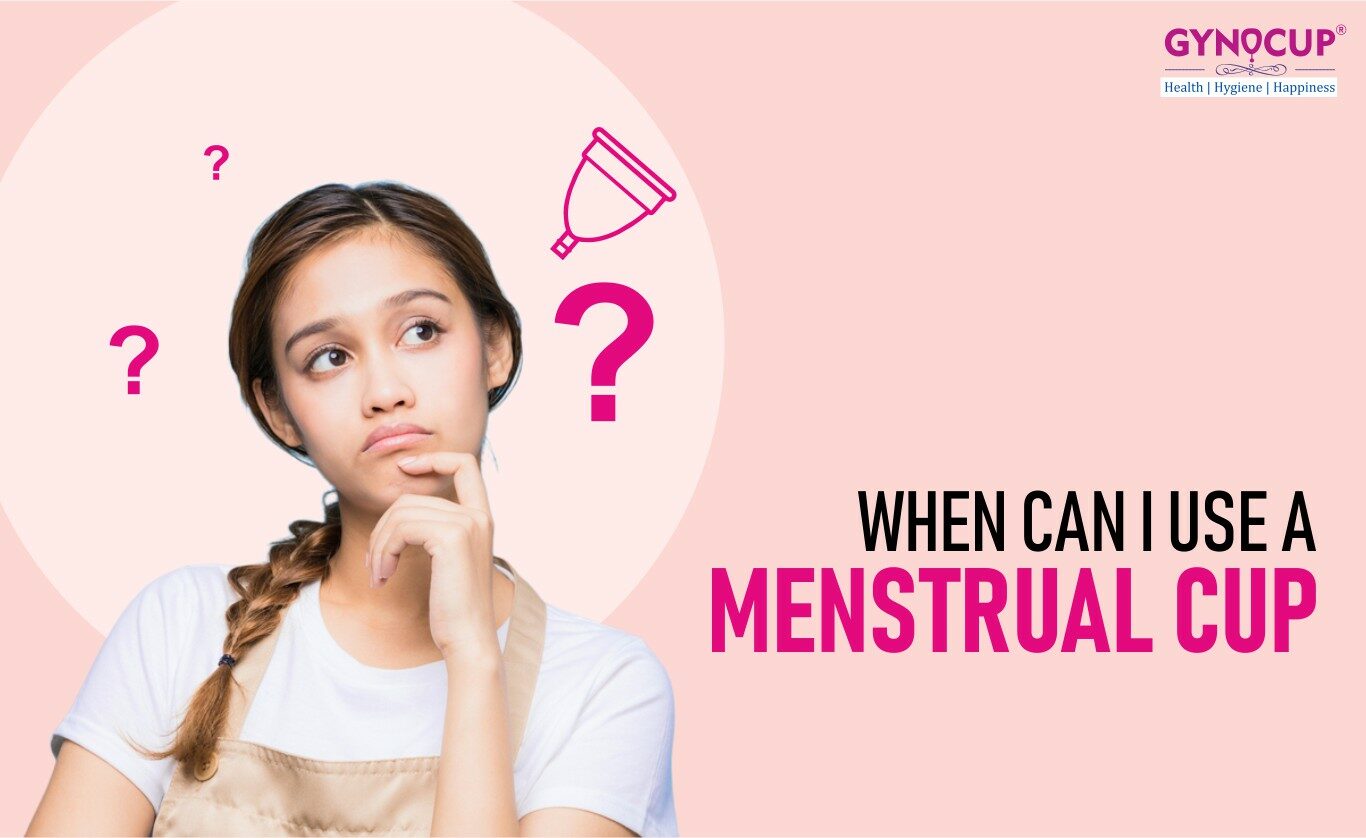 Menstrual cups are the modern menstrual hygiene products that have replaced old-school menstrual hygiene products like pads and tampons in a big way. People are getting aware of its benefits and its usage and are accepting this new change wholeheartedly in their lives. Females are getting more conscious about their physical health and also environmental well-being. This is one of the reasons to switch to sustainable products like reusable menstrual cups that are absolutely safe for the female generation.
Menstrual cups have come a long way in establishing their identity among the female force and in this highly competitive market but what made it easy to pave a path for itself in this competitive world? The unique selling points that make it stand out among its contemporaries like tampons and pads. These on the other hand are just fulfilling the need of absorbing period flow. Apart from that, they are only causing harm to the human body and the environment as well.
Let's look at some of the amazing benefits of the Premium menstrual cup India which has attracted a large number of female populations towards itself.
Very economical:

 

Have you heard of any menstrual hygiene product that can be used for as long as 8-10 years at a stretch? Definitely not. But the menstrual cups have the capacity to go on for years because of the material it is made of. These are made of medical-grade silicone and can be washed and stored again after every cycle. Once you purchase it, you are done. If you have a pair of menstrual cups your life is sorted for the coming years. That means no more spending on menstrual hygiene products that would save you a large chunk of money.
Long-lasting:

 

As we have already discussed these are long-lasting products that can be used for years if you are following the instructions given on their packaging. Moreover, you can also wear it for long hours. Depending upon your flow it can be worn for as long as 12 hours a day.
Made of medical-grade silicone:

 

These are made up of FDA-approved 100% medical-grade silicone and no plastic, harmful chemicals or artificial fragrance is used in its production. This is why they are absolutely safe for internal use.
Environment-friendly:

 

Premium Menstrual cup India is an environmentally-friendly menstrual hygiene product that is reusable. It can be used for a longer period thus, not contributing to the landfills and water bodies as garbage, keeping the environment safe. Moreover, they cause negligible pollution when dumped after use.
Odorless and leak-free:

 

The menstrual cups are odorless and leak-free products that allow you to carry your life the way you want without disturbing it. You can sleep in your comfortable position, play, exercise, swim or travel with it comfortably. Neither do they cause any leakages or cause a bad odor that can make you uncomfortable.
The questions to be answered
When can you use a menstrual cup?
The obvious answer is when your periods commence the very first time you can use menstrual cups. It can be used by females of all age groups and is worn inside the vaginal canal. You can start using it if you are a teenager, a young woman, mid-aged or even old. It is never too late to start something good. A menstrual cup is easy to use and remove after use. once you get hold of it, you will not feel uncomfortable wearing it and you would not even feel that it's there.
The menstrual cups come in three different sizes. Small, Medium and Large size of a menstrual cup is worn by women of different age groups. Small size is meant for beginners or teenagers as it is the size that can fit them well. The medium size is for the age group above 20 years of age and for the women who have not given birth naturally and had C-sections. The large size is for women above 30 years or for women who have given birth naturally.
You should not have any apprehensions regarding age if you want to use a menstrual cup. Whether you are a teenager, a virgin or an old woman you can use it comfortably and should not attach any myth with wearing it as it is absolutely safe for everyone who is using it.
You can wear the menstrual cup in all conditions whether you are having a heavy period flow or a light period flow. It can tackle both situations very well as it is designed in such a manner. Its cup shape holds the period blood and does not absorb it, unlike pads and tampons. You can wear it for long hours or change it as per the flow of the period and empty it conveniently after use.
Myths attached with menstrual cups
Fear of losing virginity:
Virginity is not associated with a hymen. A hymen in girls can break even when they exercise, play, stretch or do other physical tasks. It is just a social taboo that restricts our females to use a safer option for their periods.
It can stretch the vagina:
The menstrual cup is made up of medical-grade silicone that can easily adjust itself to the size of the vagina of the person who wears it. Moreover, the vagina has great elasticity and it comes back to its original shape even after stretching.
From where to get it?
A menstrual cup is easily accessible to all as it is easily available everywhere. If you are a person who sees, touches and introspect before buying anything then you can buy menstrual cup from any local market or a chemist shop. But if you want to get your pack of menstrual cups delivered online to your doorstep then compare from different sites and buy menstrual cup online where you can see a plethora of options available. All you need to do is to compare them and order the best one as per your need to be delivered to your home.