Best 5 Activities You Can Do With Menstrual Cup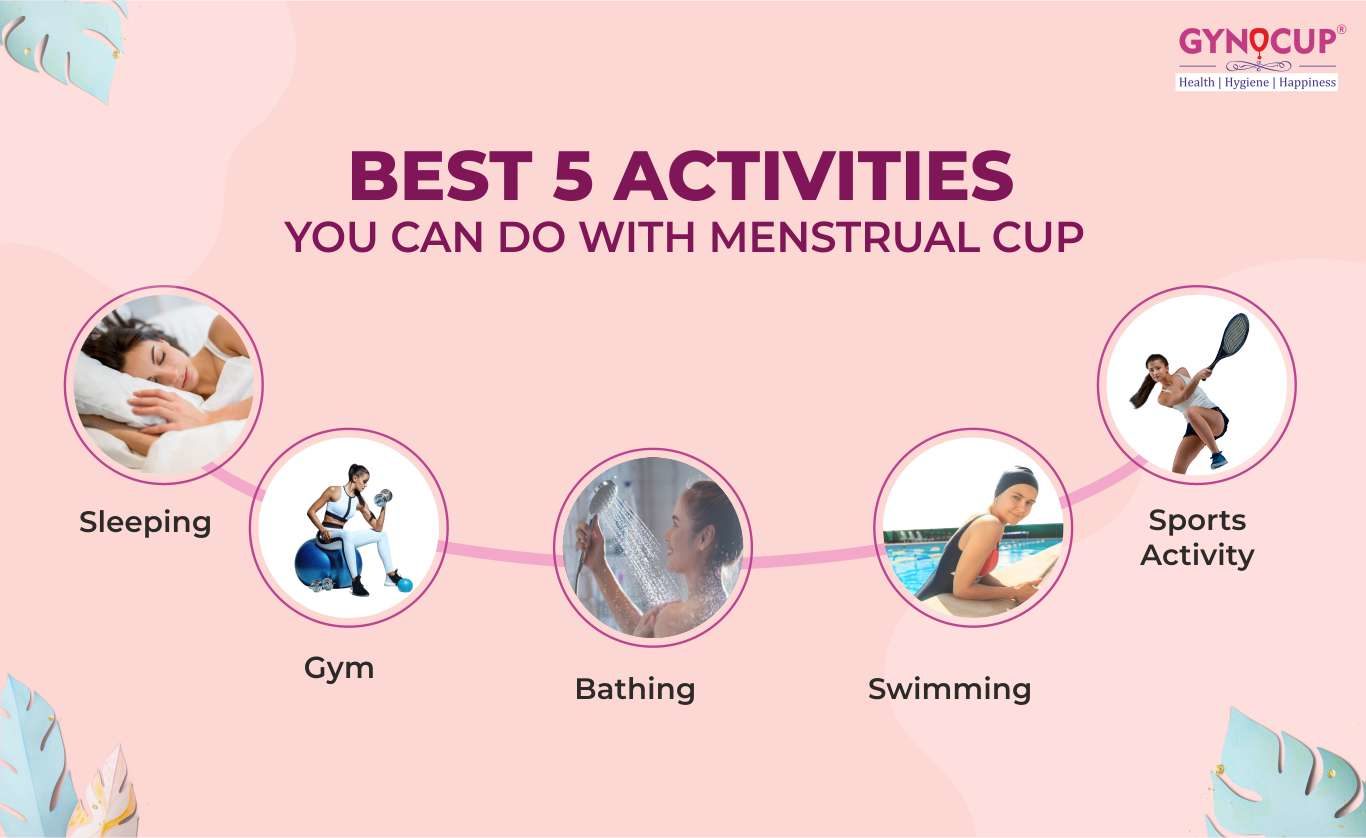 Benefits of Using A Menstrual Cup
here you will know about the best 5 healthy benefits of using a menstrual cup the advancement in the last few years in providing women with healthy hygiene products have been increasing. Their comfort and preferences have been the top-most priorities when it comes to personal hygiene.
Menstruation is a monthly process that lasts for 5-7 days. During these days, women suffer a lot of hormonal changes. In addition, they also go through anxiety, discomfort, and mood swings. The cramps make it even worse.
On top of that, some experience heavy and irregular flow. Due to this, using tampons and sanitary pads can be inconvenient sometimes. Surprisingly, with all new menstrual cups, you can have safe and easy periods.
The silicon-based funnel-like cup effortlessly inserts into the vagina and collects the fluid. But many think about whether it stays intact, plus if it is painful or not. Women often wonder, can they perform all the regular activities when wearing it. So, here are 5 activities you can do with a menstrual cup-
These 5 Healthy Benefits of Using A Menstrual Cup
-Sleeping
Yes, now you can have a good sleep without worrying about waking up with those stained sheets. Also, you can change your sleep postures comfortably and lie down the way you want. Besides, keep away the stress of changing it in the middle of the night because it lasts up to 12 hours. Thus, you can have a healthy nap even on your worst days!
-Is it possible to take a bath while wearing a menstrual cup?
You can easily use a menstrual cup even while taking a shower. In fact, you can wash it at that time as well. Make sure to clean it with a pH-balanced solution to keep away the germs and bacteria.
Menstrual Cups while working out?
Yes, ladies, you heard it right! Isn't it worrisome to skip your gym when on periods? Those sanitary pads make you super uncomfy as they get displaced while working out. You fear leakage as well and not to forget the fright of having blood stains on your pants. Why not switch to menstrual cups? Then you do not have to think of missing your gym and aerobics. Once inserted appropriately, menstrual cups would not cause any irritation or skin rashes.
-Can I play sports while I'm using a menstrual cup?
Sporting requires a lot of running and extra movement of the body. During periods it becomes a bit tough to play. You need to adjust your sanitary pads every now and then. Instead, start using menstrual cups. They stay in the same position even when you are running.
-Diving into the water when on periods?
It sounds crazy, right? You cannot even think of getting messed up with the swimming pool during monthly cycles. Well, it is obvious we cannot use the swimming pool when wearing tampons or sanitary pads. They are not leakage-proof at all. Once you go in the water, pads, and tampons would get wet too. So, have you ever thought about menstrual cups? With this, you can swim even during heavy flow days. The reason behind, it is entirely leakage-proof.
these are the 5 healthy benefits of using a menstrual cup, hence, menstrual cups have made our lives way convenient than before. Unlike the earlier days, today we do not have to care about the switching pads every 5-6 hours plus, it is economical too. Furthermore, they stay equipped for the whole day. switch to menstrual cup today check here menstrual cup price.