GynoCup menstrual cup lubricant is specifically designed for use with menstrual cups. The water-based lubricant makes menstrual cup insertion easy, smooth, and hassle-free. All ingredients used are water-based making it hypoallergenic and safe to use for your body and pH Balanced in your intimate area.
How GynoCup Menstrual Cup

Lubricant 

Best Then Others
Naturally formulated

Made up of natural ingredients to protect the silicone of your cup and the pH balance of your vagina.

Natural active ingredients

It contains 100% natural active ingredients that have anti-fungal and anti-bacterial properties.

A pH-balanced formula

Use our pH-balanced, perfume-free lube for easier insertion of your cup.

Hygienic & Safe

As no chemicals are involved in the making it is absolutely safe for the skin

No chemicals

No harsh chemicals, no irritants, no parabens, No Sulphate.

Makes insertion easier

Eases insertion and ensures pain-free, safe use of menstrual cups.
Directions for use:
* Take 2-3 drops of GynoCup lubricant.
* Coat the rim and upper body of your menstrual cup before insertion
* Ready to use
• Chemical free: No paraben and sulfate making it safe to use for intimate parts
• Makes insertion easier: Make the insertion of the cup easy and smooth
• Safe For Skin: As no chemicals are involved in the making it is absolutely safe for the skin
• Hygienic: It is hygienic to use
Aloe Vera Leaf Ext, Tea Tree Oil, Vitamin E, Purified Water, Glycerin, Propendiol, Sodium Benzoate (and) Lemon Hydrosol, Potassium Sorbate, Natural Betaine, Hydroxyethyl Cellulose, Alpha-Glucan Oligosaccharide.
Love it! Doesn't leave an awful slimy residue or make me feel like I've just shoved lube up my who-ha.. Pixie cup slides right in!
Effortless insertion
GynoCup Lubricant makes inserting your menstrual cup a breeze, ensuring a smooth and easy experience.

Safe and gentle
Our water-based and fragrance-free formula is crafted with care, making it safe for sensitive skin and ideal for users of all experience levels.

Pain-free application
Designed specifically for silicone period cups, our lubricant ensures a pain-free and comfortable insertion process.

Trusted compatibility
GynoCup Lubricant is compatible with silicone, rubber, and latex materials, ensuring compatibility with various menstrual cup brands.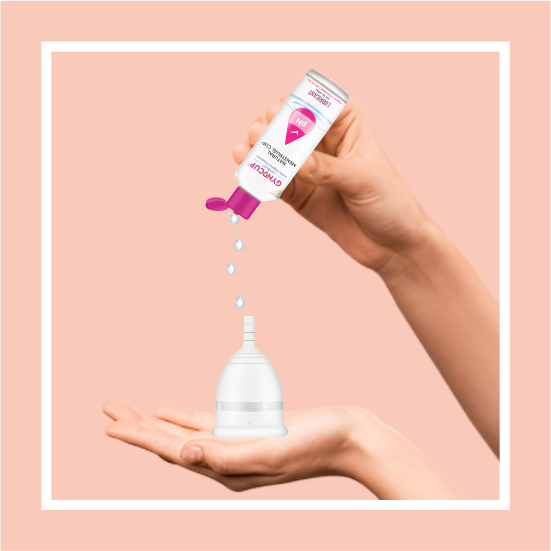 "I have tried several brands, and I must say that GynoCup Gel Wash stands out! It lathers up nicely, so you don't need to use a large amount, and it effectively cleans without causing any irritation. I'm impressed with its performance." Punam Girdhar (Cup Wash User)

Why choose GynoCup Lubricant?
Hygienic
Our lubricant ensures a hygienic experience during insertion, providing added comfort and cleanliness.
100% Plant-Based
It is made from 100% plant-based ingredients, promoting a natural and eco-friendly approach to menstrual cup use.
Safe for Skin
GynoCup Lubricant is gentle and safe for your skin, reducing the risk of irritation or discomfort.
Free from Harmful Chemicals
It is free from parabens, sulfates, and formaldehyde, ensuring a clean and toxin-free formulation for your peace of mind.