GynoCup Hygiene Wipes: Refresh and clean on the go. Hypoallergenic, fragrance-free, and compostable. Soft, pH balanced, and alcohol-free for a comfortable and confident experience. Perfect for
menstrual cups
and intimate area cleansing.
Convenient On-the-Go Cleansing

Stay fresh and clean wherever you are with these compact and portable wipes.




Safe and Gentle


Hypoallergenic, and pH balanced for a comfortable cleansing experience.


Effective Menstrual Cup Cleaning

Easily remove residue and keep your cup fresh for reuse, even without wash and water.

Individual sachet pouches

Each hygiene wipe comes in its own sealed pouch, ensuring cleanliness and convenience.

pH Balanced Formula

Maintain the natural pH of your intimate area for moisturized and protected skin.

Versatile and Multipurpose

Ideal for cup cleaning and before/after intimacy, keeping your intimate area clean and fresh.
DIRECTION TO USE: Tear open the sachet, unfold and gently wipe the vaginal area from front to back. Dispose of it in the bin after use.
WHEN TO USE: During menstruation, after urination, or anytime you want to be clean and fresh.
PRECAUTIONS: For external use only, store at room temperature. Stop use if irritation occurs. Keep away from children. Don't flush wipes.
Aqua, Glycerine, Surfactants,Sodium Benzoate, EDTA, Aloe Vera Extract, Vitamin E, Fragrance.
Wipes Size: Width-20cm and height-15cm
Learn More About GynoCup Intimate Hygiene Wipes
Introducing GynoCup Hygiene Wipes, your perfect companion for a quick refresh anytime, anywhere. These water-based wipes are specially designed to clean both you and your cup, ensuring utmost hygiene. They are hypoallergenic, fragrance-free, and even compostable, making them an eco-friendly choice.

Ideal for those moments when you're on the go and can't conveniently clean your cup with menstrual cup wash, these wipes fit easily in your wallet, purse, or pocket. No more worrying about being caught without a proper cleaning solution. With GynoCup Hygiene Wipes, you can confidently continue your day without any concerns.

"I had high expectations for its performance, but I was pleasantly surprised by how effectively it cleaned my cup. It effortlessly removed residue that soap and water couldn't tackle, leaving it pristine with just a simple swipe. It's definitely worth it." (HAPPY CUSTOMER)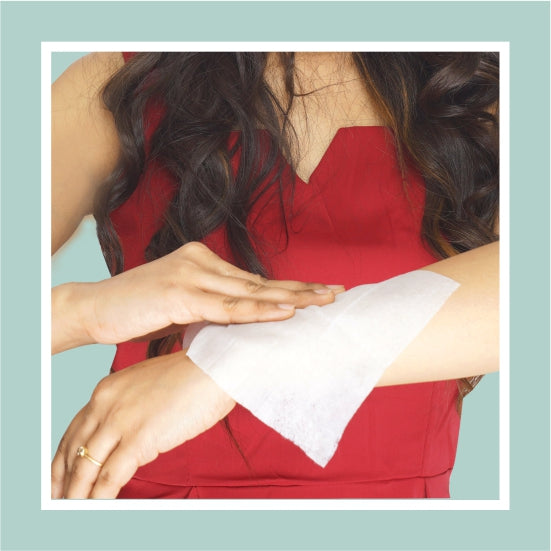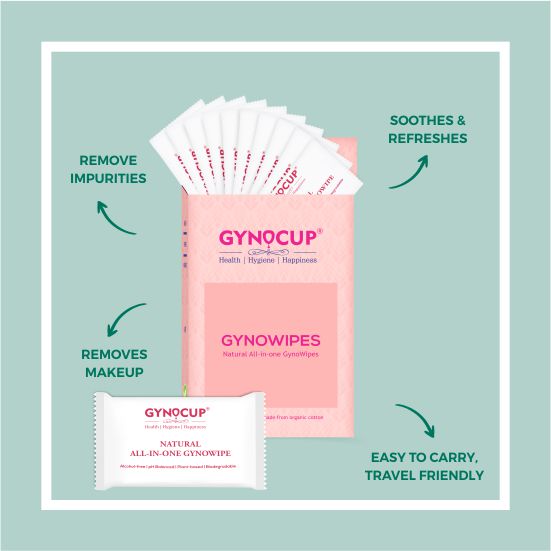 GynoCup Hygiene Wipes Features
Soft and comfortable
The wipes are designed to be gentle and comfortable on your skin, providing a soothing and pleasant experience.

Safe for your skin
Made with safe and skin-friendly materials, these wipes are suitable for all skin types and won't cause irritation.

Natural intimate wipes
Enriched with cleansing properties, these wipes effectively clean your intimate area, leaving you feeling fresh and revitalized.

Perfect for on-the-go freshness
Whether you're traveling, at work, or out and about, these wipes are compact and easy to carry, providing instant freshness whenever you need it.

"Wow, I am truly impressed with GynoCup Intimate Hygiene Wipes! They have become an essential part of my daily routine. The convenience they offer is unmatched - I can simply grab a wipe and freshen up anytime, anywhere. They are so gentle on my skin and leave me feeling clean and confident. I highly recommend these wipes to every woman who values convenience and hygiene." - Sara (HAPPY CUSTOMER)
Why to choose Gynocup Intimate Wipes?
Gentle and Skin-Friendly
We understand the importance of gentle care for your intimate area. Our wipes are made with soft and non-irritating materials, ensuring a comfortable and soothing experience. They are also pH balanced and hypoallergenic, making them safe for all skin types.
Refresh and Confidence
With GynoCup Intimate Hygiene Wipes, you can instantly refresh yourself and boost your confidence. Our wipes are enriched with cleansing properties that effectively remove impurities and leave you feeling fresh and revitalized.
Quick and Easy to Use
Our wipes are designed for quick and easy use. Simply grab a wipe and gently cleanse your intimate area for instant freshness. The resealable packaging keeps the wipes moist and ready for use whenever you need them.