Introducing our Menstrual Hygiene Kit, designed to provide comfort and convenience during your period. This kit includes:
GynoCup:A large-sized menstrual cup for reliable and eco-friendly period protection.
Cup Wash:A plant-based, pH-balanced cleanser to keep your menstrual cup clean and hygienic.
Cup Sterilizer:A microwave-friendly container for easy and effective sterilization of your menstrual cup.
Period Cramp Relief:An instant roll-on formula to provide relief from menstrual cramps.
With our Menstrual Hygiene Kit, you can experience hassle-free and sustainable period care. Say goodbye to traditional products and embrace a more comfortable and eco-friendly solution.

Premium Gynocup Menstrual Cup
Flexible and Gentle:
Crafted from 100% medical grade silicone, the GynoCup combines softness for easy folding and insertion, while maintaining the firmness needed to secure its position.
Secure and Leak-Free:
Equipped with small air holes near the rim, the GynoCup guarantees hours of worry-free protection, keeping leaks at bay.
Mess-Free Removal:
The GynoCup features an easy-to-grip base, making removal a breeze while minimizing any potential mess. Customize your comfort by trimming the stem to your desired length.
Track Your Flow:
Stay informed about your menstrual cycle by observing the visible flow lines on the GynoCup. Easily gauge your period's volume and know when it's time to empty the cup.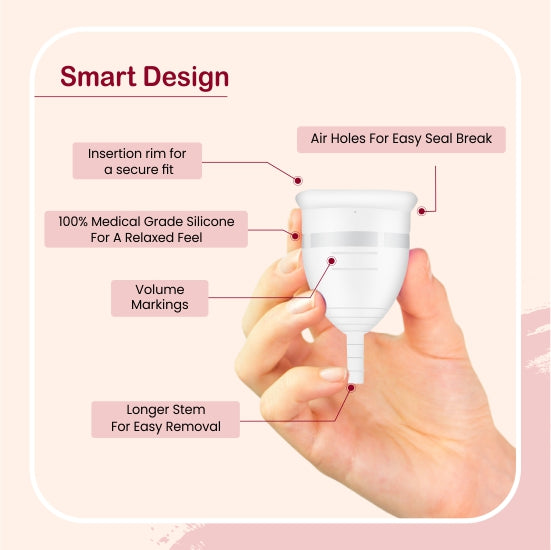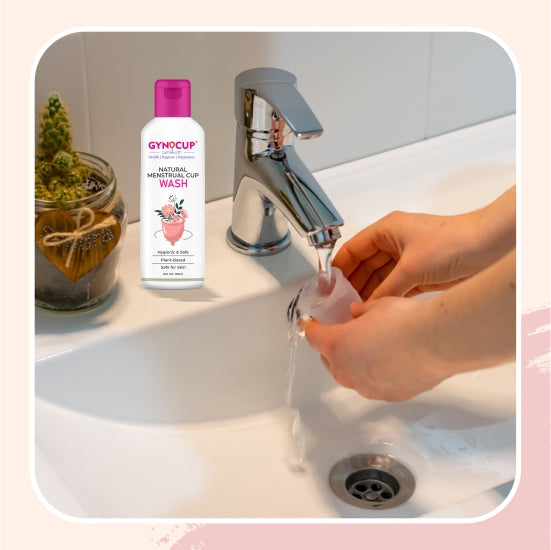 Specifically designed for washing cups
"I appreciate the assurance that this gel cleanser is safe for both me and my new menstrual cup! It's definitely an effective and gentle cleanser that I can rely on." Kalyani (User feedback)
The Menstrual Cup Sterilizer is an essential accessory for anyone who uses menstrual cups. With its collapsible design, it offers convenience and ease of use. It provides a discreet and sanitary solution for sanitizing your cup.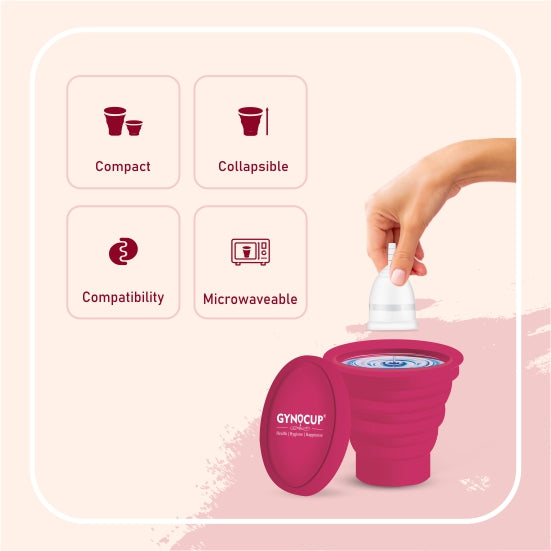 GynoCup Cramp Relief Features
Goodness of AyurvedaExperience the healing benefits of Ayurveda with our Cramp Relief Roll-On, enriched with herbal oils to provide natural relief from period pain.
Therapeutic BenefitsEnhanced with Menthol and Eucalyptus oil, our roll-on offers therapeutic benefits that soothe and relieve the pain associated with menstrual cramps.
Mild FragranceEnjoy the subtle and pleasant fragrance of our roll-on, providing a calming effect on your senses while alleviating discomfort.
Instant Pain ReliefEasily apply the roll-on to your abdomen, lower back, and legs for instant relief from menstrual cramps, allowing you to carry out your daily activities with ease. Additionally, it helps keep your skin soft and supple with the nourishing properties of Vitamin E.