GynoCup Menstrual Cup Sterilizer Container will fit your GynoCup Menstrual Cup, as well as all available brands of menstrual cups. Our sterilizing container is your new designated container to make it easy to clean any silicone menstrual cup.

How GynoCup Menstrual Cup Sterilizing Container Best Then Others
Universal fit

It is compatible with not only the GynoCup but also all available brands of menstrual cups.





Collapsible design

The sterilizer container is collapsible, making it compact and portable for easy cleaning on the go.

Microwave-friendly

It is safe to use in the microwave, providing a quick and efficient sterilization process for your cup.


Specially designed for menstrual cups

The container is specifically designed to accommodate and effectively clean silicone menstrual cups.


Hygienic and odor-free

It provides a leak-free and odorless environment for sterilizing your cup, ensuring maximum hygiene.


Soft and flexible silicone

The sterilizer container is made of soft and flexible silicone material, which is durable and easy to clean.

How To Use Menstrual Cup Sterilizer
1. Unfold the sterilizing container and place it on a countertop or a stable surface.
2. Take your menstrual cup and place it inside the sterilizing container.
3. Add GynoCup Wash or any organic silicone-safe soap to the container. Ensure that the cup is fully submerged in the solution.
4. Boil water separately in a kettle or pot.
5. Carefully pour the boiling water over the menstrual cup inside the sterilizing container, ensuring it is fully covered. Be cautious to avoid any burns or spills.
6. Allow the cup to soak in the hot water for a minimum of 3-5 minutes. This helps ensure thorough sterilization.
7. Using caution to avoid hot water, carefully remove the sterilized cup from the container.
8. Rinse the cup with clean water to remove any soap residue or sterilization solution.
9. Your menstrual cup is now sterilized and ready to use.
Why choose GynoCup Sterilizing Container ?
Microwave-friendly
Designed to be used in the microwave for quick and efficient sterilization.
Easy to use and carry
Its user-friendly design ensures convenience and portability.
Specifically designed for menstrual cups
Tailored to accommodate and effectively clean menstrual cups.
Hygienic, leak-free & odorless
Provides a secure and odor-free environment for sterilization.
Soft flexible silicone
Crafted with soft and flexible silicone material for durability and ease of use.
Wash and Re-use
Can be washed and reused, offering a sustainable and long-lasting solution.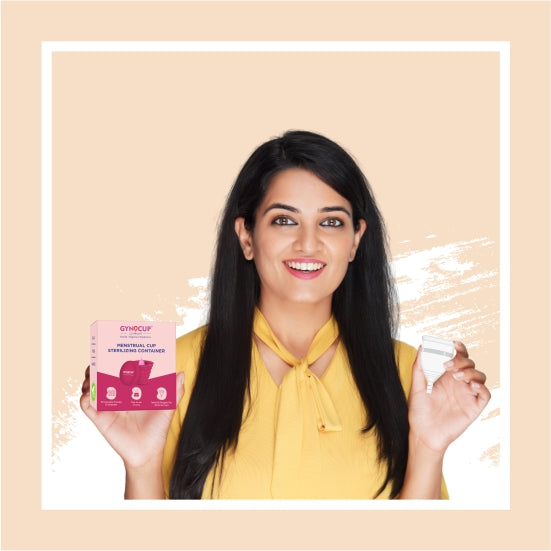 The Menstrual Cup Sterilizer is an essential accessory for anyone who uses menstrual cups. With its collapsible design, it offers convenience and ease of use. It provides a discreet and sanitary solution for sanitizing your cup.
GynoCup Sterilize Carry Cup features
Compact
Designed to be compact and portable, it easily slips into your purse or bag, making it convenient to carry wherever you go.
Collapsible and flat
The carry cup can be collapsed and flattened, further enhancing its portability and ease of storage.
Compatibility
It is compatible with every brand of silicone Menstrual Cup or Disc available on the market, ensuring versatility and convenience for all users.
Microwaveable
No need to boil your menstrual cup or disc in a pot on the kitchen stove anymore. The carry cup is microwaveable, providing a quicker and more convenient sterilization option.