Stretch mark removal cream nourishes the skin and repairs it for faster & better stretch mark removal. Enriched with organic aloe vera gel, natural extracts, jojoba cream, organic shea butter, kokum, and cocoa to soften, smooth, and plump skin. Gynocup stretch mark removal cream skin-benefiting ingredients are used, with no parabens, no phthalates, and no petrolatum or SLS.




Effective Repair & Removal


Say goodbye to unsightly stretch marks and scars.




Nourishing & Rejuvenating


Enriched with organic aloe vera gel and natural extracts.




Safe for All Skin Types


No parabens, phthalates, petrolatum, or SLS..





Suitable for use during and post-pregnancy.


No parabens, phthalates, petrolatum, or SLS for your peace of mind.
Steps To Use For Good Results

Steps. 1: Take a generous amount of stretch marks cream.
Steps. 2: Massage in a circular motion until absorbed.
Steps. 3: Apply 2 times morning and evening.
Steps. 4: Start from pregnancy to up to 6 months of delivery.
Purified Water, Aloe Vera Leaf Ext., Isopropyl Myristate,Cetearyl Olivate (and) Sorbitan Olivate, Cetyl Alcohol,Glycerine, Shea Butter, Glycerol Monostearate, Almond Oil,Coco-Caprylate / Caprate, Water (and) Glycerin (and)Astragalus Membranaceus Root Extract (and) CodonopsisPilosula Extract (and) Potassium Sorbate (and) Sodium Benzoate,Natural Betaine, Chamomile Hydrosol, Sodium Benzoate (and)Potassium Sorbate, Jojoba Oil, AmmoniumAcryloyldimethyltaurate/VP Copolymer, Harsingar Oil,Sodium Gluconate, Vitamin E, Turmeric Oil.
Stretch mark cream
Stretch mark cream, it's important to consider the ingredients and their effectiveness. Ingredients in stretch mark creams include:

Hyaluronic acid:
It helps to hydrate and plump the skin, potentially reducing the appearance of stretch marks.
Retinoids
Derived from vitamin A, retinoids can promote collagen production and skin cell turnover, which may help improve the appearance of stretch marks.
Vitamin E
Known for its antioxidant properties, vitamin E helps to moisturize and protect the skin.
Cocoa butter and shea butter:
These natural moisturizers can help hydrate the skin and improve its elasticity.
Natural oils
Certain oils like almond oil, coconut oil, and rosehip seed oil are often used in stretch mark creams for their moisturizing and nourishing properties.


"This cream can exceed anyone's expectations with its great results. I'm so happy with the results. " - Pratiksha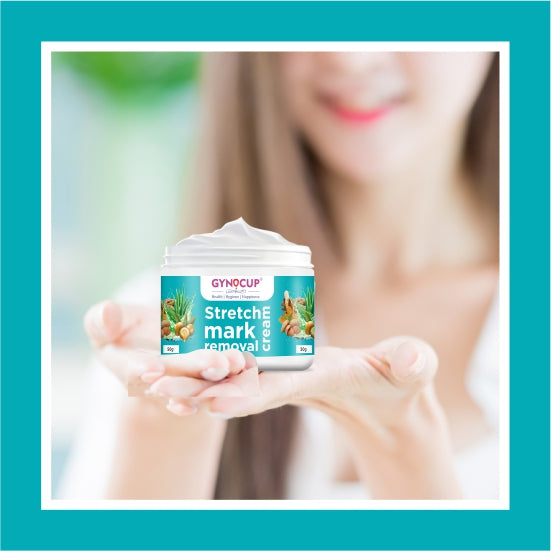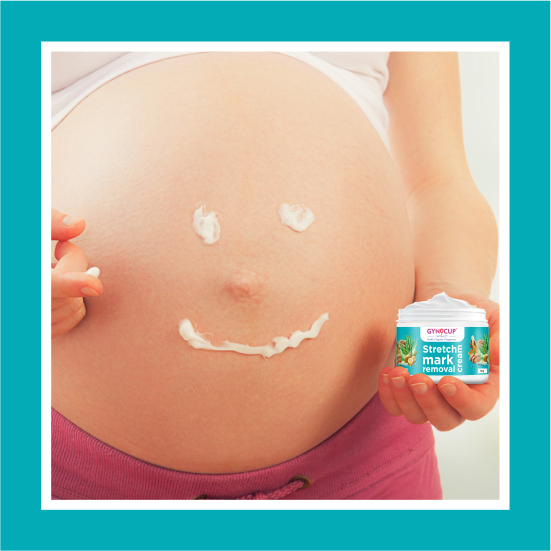 "This cream is surely the best buy when it comes to stretch marks. I work out a lot, and the appearance of stretch marks is very common in my case. I have also recommended it to my husband, and he is also very happy with the results." - Uma Joseph (Happy Customer)

"This cream is surely the best buy when it comes to stretch marks. I work out a lot, and the appearance of stretch marks is very common in my case. I have also recommended it to my husband, and he is also very happy with the results." - Uma Joseph
Why Use Gynocup Stretch Mark Removal Cream
Gynocup stretch mark removal cream nourishes the skin and repairs it for faster & better stretch mark removal.
Enriched with organic aloe vera gel, natural extracts, jojoba cream, organic shea butter, kokum, and cocoa to soften, smooth, and plump skin.
Gynocup stretch mark removal cream has skin-benefiting ingredients used, with no parabens, no phthalates, and no petrolatum or SLS.
Gynocup stretch mark removal cream is safe for all skin types and ideal to use during and post-pregnancy.
During pregnancy: start use twice a day from the second trimester and continue till a few months post-delivery to minimize the appearance of stretch marks