Mildcares intimate wash for men your intimate hygiene care. It is imperative when it comes to men's hygiene. It is natural and relieves the intimate area from itching, irritation, and dryness that can make you feel uncomfortable with the regular use of soap and body washes.



pH-Balanced Formula 

Promotes optimal hygiene and comfort with a balanced pH level.





Gentle and Effective Cleansing

Thoroughly cleanses without irritation, leaving you fresh and confident.




Eliminates Odor and Discomfort

Effectively eliminates odor-causing bacteria for long-lasting freshness.





Hydrating and Moisturizing

Keeps skin hydrated and moisturized, preventing dryness and irritation.




Convenient and Easy to Use

User-friendly packaging for hassle-free maintenance of intimate hygiene.





Natural Ingredients

Contains soothing and anti-inflammatory ingredients.
Take the Mildcares intimate wash for males onto your palm and gently massage the lather onto your genitals. Rinse it well with water after use. You can use it daily while taking a bath.
Purified Water, Sodium Methyl OleoylTaurate, Sodium Methyl Cocoyl Taurate, Natural Betaine, Sodium Benzoate (and) Potassium Sorbate,Polysorbate 20, Alpha-GlucanOligosaccharide, Tea Tree Oil, LemonOil, Cedarwood Oil, Peppermint Oil,Sodium Gluconate.
Know About the MildCares Men Intimate Wash!
Our wash is specially made keeping in mind the pH balance and sensitiveness of the intimate area. It is gentle to use and very effectively cleans your genitals.
It also cleans the residual left behind by the condoms and lubricants after its use. It cleans the residue from condoms or lubricants off your genitals and saves you from infections.
It makes you feel hygienic and provides the ultimate cleansing experience. Your intimate areas require equal attention and care as other parts of your body.
• Eradicate bad odor: Specially formulated to remove unwanted bad odor. It makes the intimate area smooth & moisturizes it.
• A multi-tasker: An all in one product that kills bacteria, fight irritation, itching & maintains pH level
• Filled with the power of nature: Formulated with Tea Tree oil, Lemon oil, Cedarwood oil, Peppermint oil, everything needed for intimate skin.
• Keeps intimate areas clean: Helps in cleansing the intimate area and fresh.
• Free from harmful chemicals: No harmful chemicals like paraben & sulfate involved in the making so free from all side effects and safe for daily use.
"Using Mildcares Men Intimate Wash has made a noticeable difference in my daily routine. It's convenient, easy to use, and leaves me feeling clean and refreshed all day long. The pH-balanced formula and natural ingredients provide a soothing and comfortable experience. Highly recommended for any man looking for a reliable and convenient solution for intimate hygiene."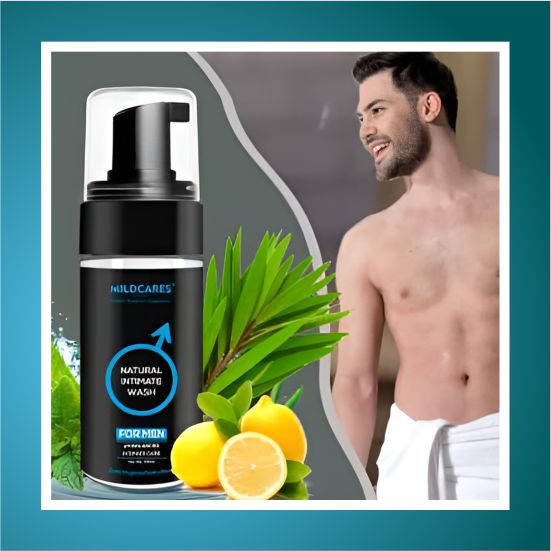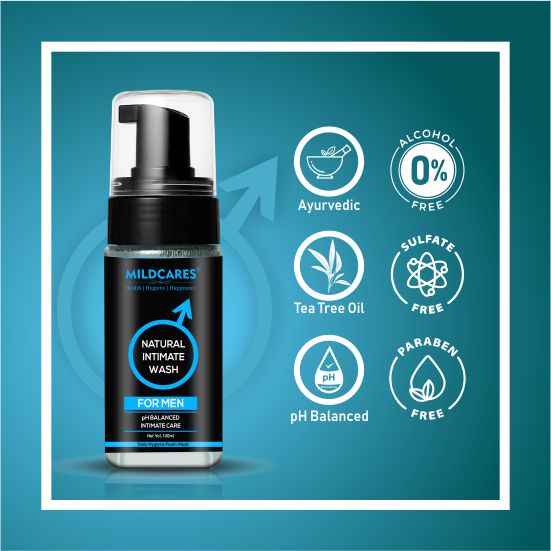 MildCares Men hygiene wash features
pH-Balanced Formula
Mildcares Men Intimate Wash is specially formulated to maintain the pH balance of the intimate area, promoting a healthy and comfortable environment.
Odor Control
This wash effectively eliminates unwanted odor, keeping you feeling fresh and confident throughout the day.
Gentle and Effective Cleansing
The wash provides thorough cleansing while being gentle on the skin, ensuring proper hygiene and preventing irritation or discomfort.
Natural Ingredients
Enriched with natural ingredients like Tea Tree oil, Lemon oil, Cedarwood oil, and Peppermint oil, it offers the power of nature to soothe and nourish the intimate area.
"Finally, a product that understands the unique needs of men's intimate hygiene. Mildcares Men Intimate Wash provides gentle and thorough cleansing, leaving my intimate area clean, moisturized, and free from irritation. It's a must-have for every man who cares about his overall hygiene." - Happy Customer

Why Choose Mildcares Men Intimate Wash?
pH Balanced and Gentle
Our wash is specifically formulated to maintain the pH balance and sensitivity of the intimate area. It provides a gentle and effective cleansing experience, keeping you fresh and hygienic.
Residue Removal
It effectively cleans residual substances left behind by condoms and lubricants, helping prevent infections and ensuring a clean and healthy intimate area.
Odor Eradication
Specially formulated to remove unwanted bad odor, our wash leaves your intimate area feeling smooth, moisturized, and free from unpleasant smells.
Multi-tasking Benefits
This all-in-one product not only kills bacteria but also fights irritation, itching, and helps maintain the pH level of the intimate area, ensuring comprehensive care.
Natural Ingredients
Our wash is formulated with the power of nature, including Tea Tree oil, Lemon oil, Cedarwood oil, and Peppermint oil, which provide the necessary benefits for intimate skin health.